Printing South China & Sino-Label 2019 Open Today at Guangzhou
Publish Date: 2019/03/04
Guangzhou, China, 4 Mar 2019 - The 26th South China International Exhibition on Printing Industry (Printing South China) and the China International Exhibition on Label Printing Technology (Sino-Label) grandly open today till 6 Mar at Hall 1.1, 2.1, 3.1, 4.1, 5.1, Area A, China Import & Export Fair Complex.

Innovative Technologies in Eight Thematic Zones
Smart Post-press and Packaging Processing Zone, Green Flexo Printing Zone, Specialty Paper & Packaging Materials Zone and Corrugated Zone in Printing South China (Hall 3.1-5.1), together with Digital Label Zone, Green Label Materials Zone, RFID Smart Label Zone and Label Printing Equipment Zone in Sino-Label (Hall 1.1-2.1) gather well-known exhibitors from all around the world. Over a thousand of exhibitors (some exhibitors are introduced in the appendix) demonstrate new machines, share cases of different applications and launch new products on the spot. There are cutting-edge products, top-notch technologies, latest development trends and new design concepts in the exhibitions.

In addition, under the "Consumables Discount Program" held in the exhibition, a strong lineup of consumable suppliers offer a wide variety of cost-effective products with competitive price. Many buyers have successfully purchased materials that are suitable for their production and cost-saving needs.

Forums and Display Zone Concurrently Held in the Exhibitions
Forums covering packaging printing materials, RFID applications, CMF, flexible packaging, digital packaging and green packaging are well received by audience today. Attendees overwhelmingly discuss with professionals and industry representatives to obtain the latest market news for tapping in vast business opportunities. In addition, visitors have an eye-opening journey in the display zone of "The 30th Hong Kong Print Awards".

More forums are coming tomorrow, covering hot topics of intelligent printing, lower cost & small order solutions, anti-counterfeit intelligent tracing technology, etc. The "2019 Seminar on Development Trend of Green Catering Take-away Packaging" in Sino-Pack, the concurrent packaging exhibition, taking place in Hall 5.2, will gather management and merchandising representatives from over a hundred of enterprises in the food and beverage industry, including the online food delivery platform Ele.me, Real Kungfu Catering, Yonghe King Fast Food, etc. Packaging material suppliers and packaging printing enterprises are encouraged to join the forum to learn about the needs of catering industry.

Concurrent Packaging Fairs with International Exhibitors
Two packaging exhibitions, Sino-Pack and PACKINNO, are held concurrently with Printing South China and Sino-Label, featuring five thematic zones namely Packaging Products & Materials, Smart Packaging, General Packaging, Food Packaging and e-Delivery & Logistics. It is the first time for the Italian Network "Processing and Packaging the high-tech Italian way", brings world-class packaging and processing equipment and technologies, and European Pallet Association E.V. (EPAL), shares the future development of intelligent pallet, to exhibit in the fairs.

Two More Days to Visit the Fairs
Thousands of professional buyers from over 90 countries and regions, and over 200 delegations from home and abroad attend the fairs today. Overseas delegations include Graphic Arts Association of Hong Kong, Malaysia Printers Association, Mongolian National Chamber of Commerce and Industry, Philippine Center for Print Excellence Foundation, Philippine Printing Technical Foundation, Printing Industries Association of the Philippines, etc, while there are mainland delegations come from over 40 printing, labeling, packaging associations. In addition, many leading printing and packaging enterprises in China form groups to participate in the fairs.

The fairs take place for two more days till 6 Mar, visitors are welcomed to join the fairs with tens of thousands of industry players!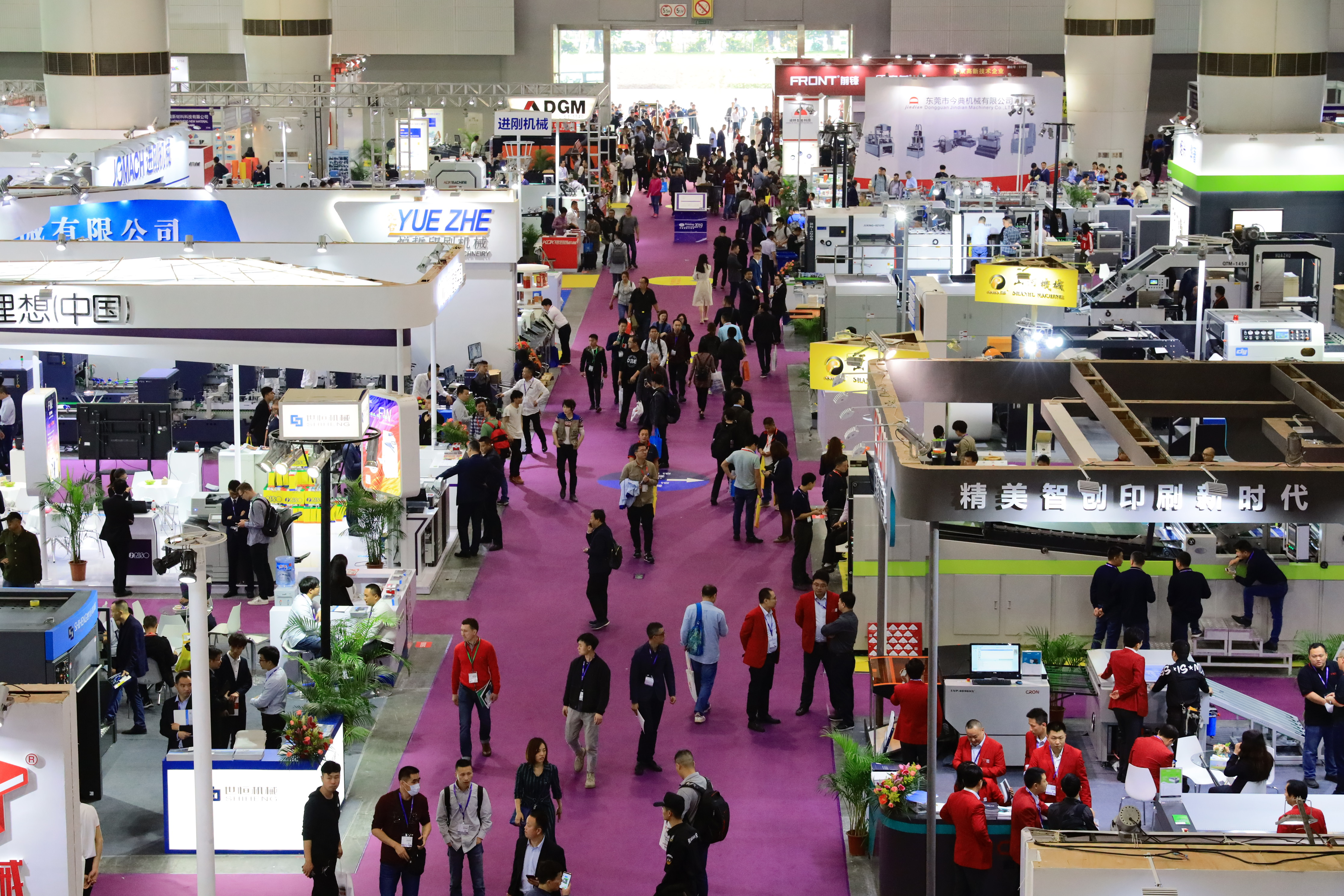 Thousands of visitors attend the Print-to-Pack Expo which opens today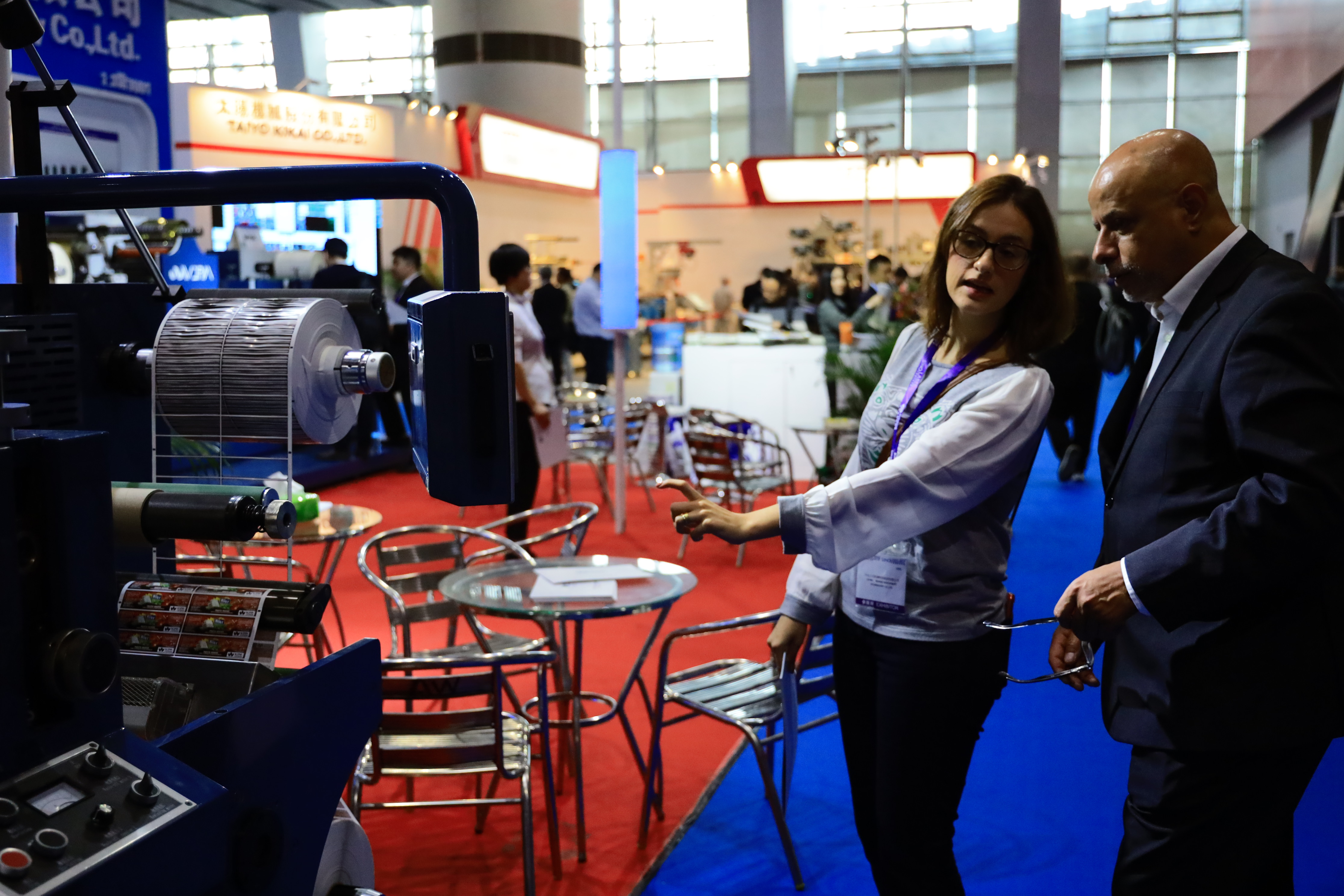 A lot of innovative printing machinery is showcased during the exhibition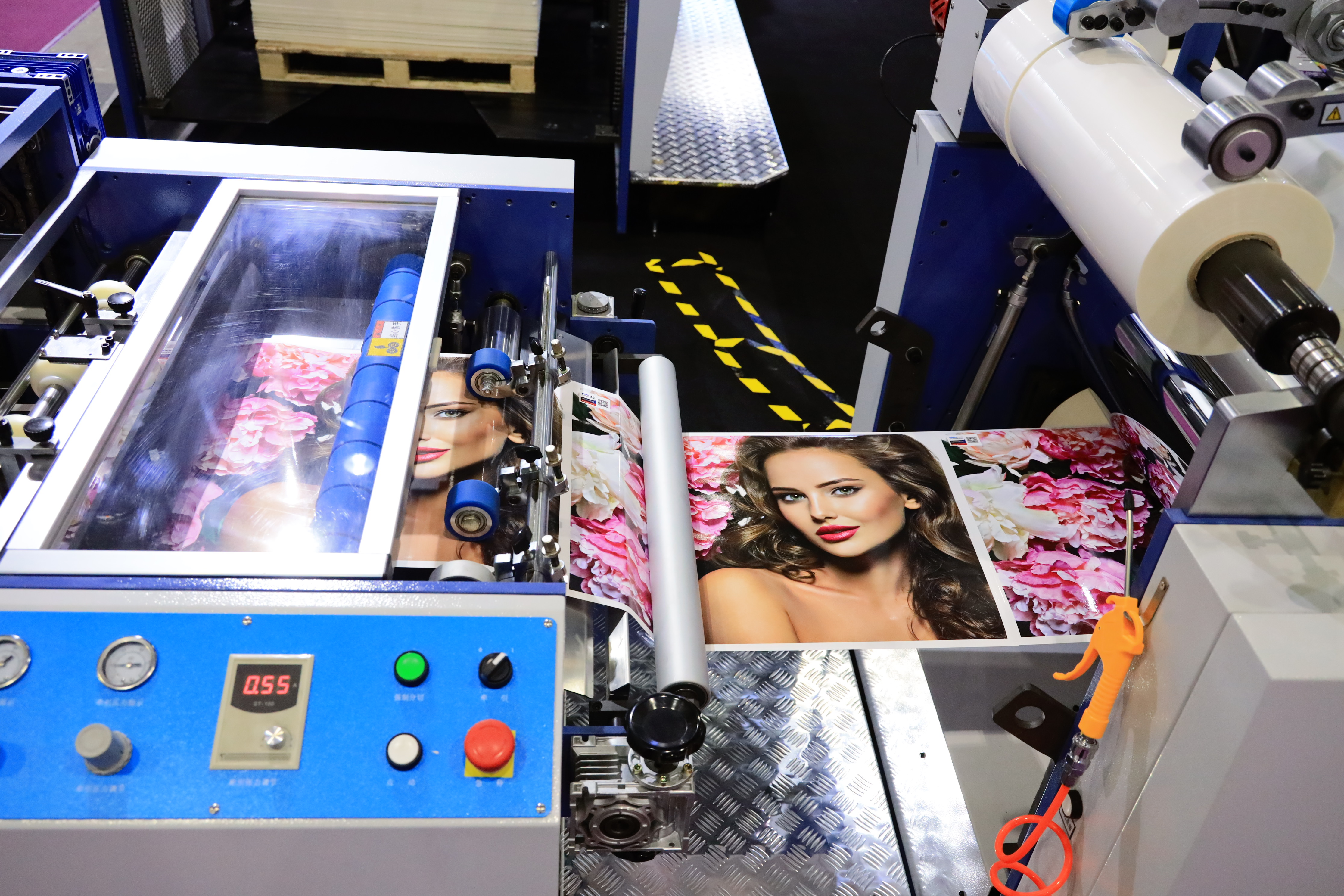 Cost-effective machines with high quality printing output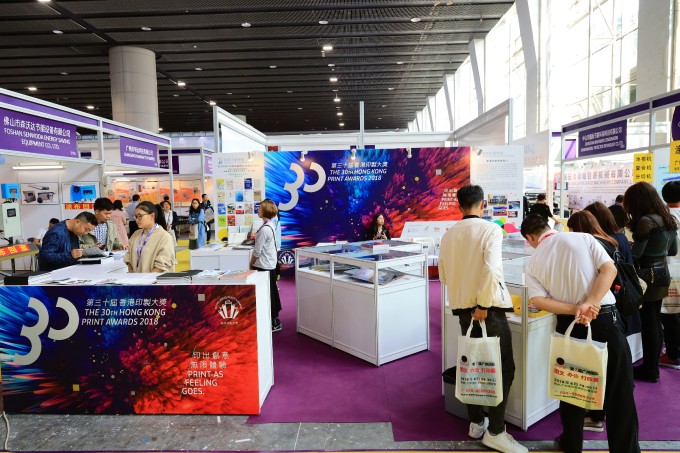 Display zone of "The 30th Hong Kong Print Awards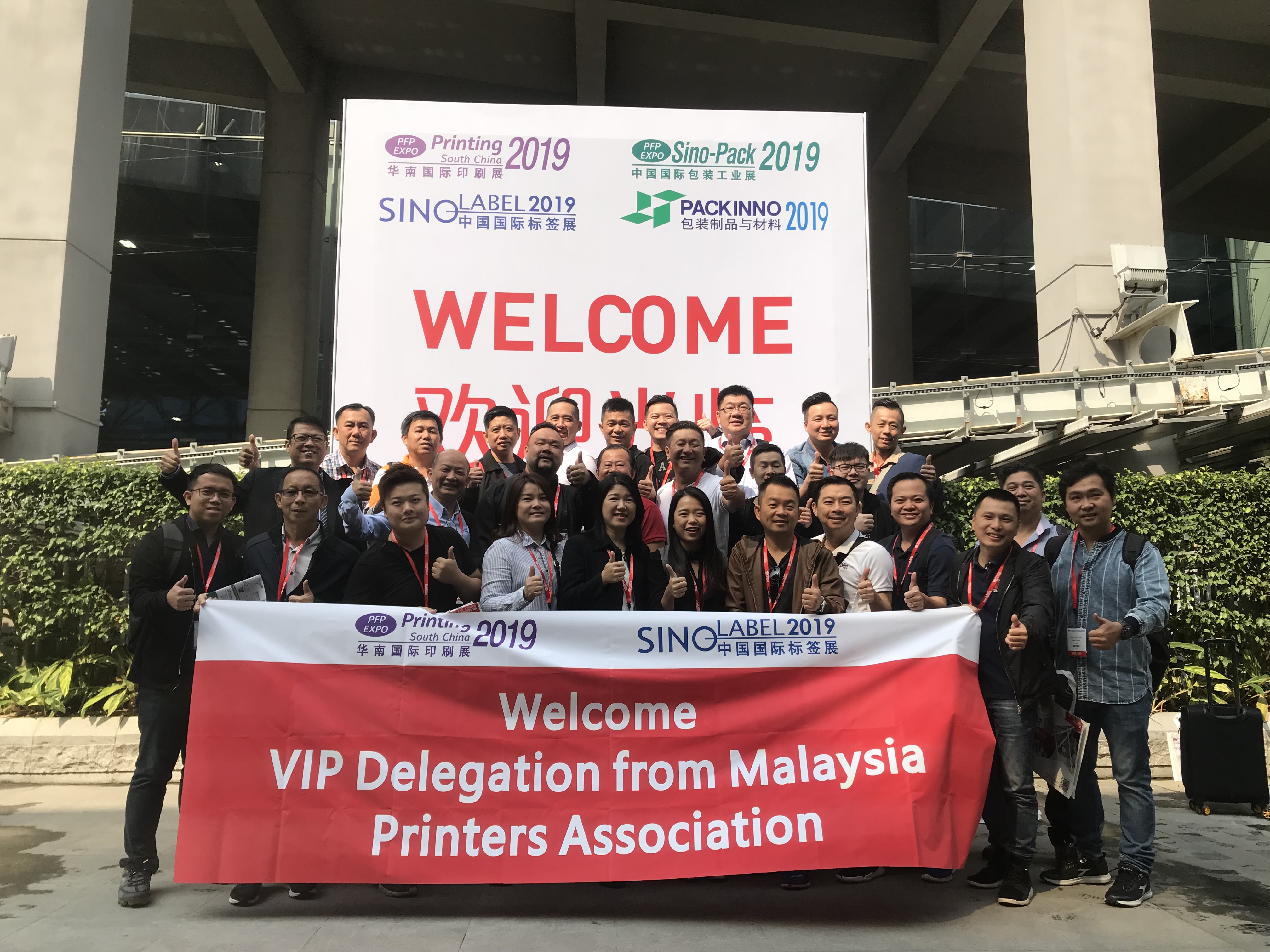 Many international delegations visit the expo

For more information, please visit:
Website: www.PrintingSouthChina.com / www.SinoLabelExpo.com
Facebook: @PrintingSouthChina / @Sino-Label
Twitter: @PrintingSChina / @SinoLabel
LinkedIn: @PrintingSouthChina / @SinoLabel

-End-

Please send us a specimen copy if you publish this text. Thank you。

Exhibitor Enquiry
Adsale Exhibition Services Ltd.
Overseas - Tel: (852) 2811 8897
China - Tel: (86-755) 2354 7123/7122/7127
E-mail: plp@adsale.com.hk

China Foreign Trade Guangzhou Exhibition General Corp.
Tel: (86-20) 8912 8268
E-mail: zhouxx@fairwindow.com.cn

Overseas Media/ Visitor Enquiry
Adsale Exhibition Services Ltd.
Hong Kong - Ms. Ivy Chui / Ms. Belinda Leung
Tel: (852) 2516 3363 / 3523
Email: printpack.hkpr@adsale.com.hk

China Foreign Trade Guangzhou Exhibition General Corp.
Tel: (86-20) 8912 8136
E-mail: huangjh@fairwindow.com.cn

Appendix – Introduction of part of the exhibitors

HP INC. (Hall 3.1, 3508)
Exclusively sponsored by HP Indigo series packaging innovation solutions, the "Customized Packaging Innovation Experience Zone" features personalized labeling and packaging applications with digital printing technology in the food, beverage, daily chemicals, pharmaceuticals, tobacco, alcohol and other end-use industries.

Zhejiang Oulite Technology Co., Ltd. (Hall 4.1, 4525)
Their double-station automatic hot foil-stamping and die-cutting machine is a set of high-end equipment that includes hot stamping, die-cutting and stripping function. It provides an ideal solution for repeating foil-stamping or hot foil-stamping and stripping process.

JINBAO (Hall 4.1, 4520)
The JB-1050AG Full Automatic Stop Cylinder Screen Press adopts the classical stop cylinder technology, with a highest speed at 4000pcs/h. It also adopts non-stop feeder and non-stop collection technology, which saves time from feeding and collection, and increases the printing use ratio to more than 30%.

Guangdong Hongming Intelligent Joint Stock Co., Ltd. (Hall 4.1, 4615)
The HM-ZD350A Automatic Rigid Box Machine, is the one of the most advanced fully auto box machines by Hongming. It is suitable to make various types of rigid boxes for mass production, such as jewelry boxes, mobile phone boxes, gift boxes, cosmetic boxes, watch boxes, slanting boxes, etc.

Zhejiang Weigang Machinery Co., Ltd. (Hall 1.1, 1505)
Their ZJR Series Modular Flexo Printing Machine adopts the latest servo control system and motors from Germany. The printing roller adopts sleeve system which is light, easy, convenient and fast to change. This design largely improves the printing quality and reduces the maintenance. Fast and easy pressure adjustment of printing or ink transferring: printing roller run by bearer. Anvil roller equips with water chiller, it is good for film material as well.

SCREEN GP China Co., Ltd. (Hall 2.1, 2601)
The Truepress Jet L350UV+ Series UV Inkjet Label Presses feature high speed and productivity. The low migration UV inks meet the needs of food packaging. The label press can be integrated with post-press equipment which supports real-time remote inspection and maintenance.

Taiyo Kikai Co., Ltd. (Hall 1.1, 1501)
Taiyo Kikai's "STF-340 Flexo Press" has an AC servo driven system and unique expansion cylinder with patent protection, which performs high quality printing on materials with different thickness. Printing circumference is from 5.5" to 26". The special designed chilling roller can simulate the flatbed cylinder printing quality. The equipment has moveable cold stamping with laminating unit/ downside turnbar and rotary screen unit. It also includes rotary die cut unit, sheet cut unit, back side slitting, folding unit and online Ink Jet Printer for clients to complete complex printing.